Splunk AR version 3.0.0 and higher requires the Splunk App for AR, a companion web app. To learn more, see
About the Splunk App for AR
.
This documentation does not apply to the most recent version of Splunk
®
AR for iOS. Click
here
for the latest version.
Download topic as PDF
About geofences with Splunk AR
Geofences are GPS-based boundaries that allow a mobile device to trigger an action, such as receive dashboards, when the mobile device enters or exits the area.
Create geofences on a GPS map in the Splunk AR app, and associate the GPS defined region with Splunk dashboards: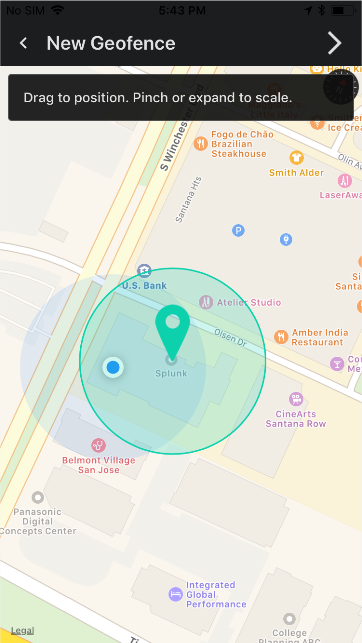 Splunk AR users can view these dashboards when they enter the defined region.
What are the differences between geofences and beacons?
Both geofences and beacons allow Splunk AR users to associate dashboards with a location. Geofences don't require hardware and are not as precise as beacons in terms of proximity detection. Geofences work best when defining an area at least as large as a GPS-visible location, such as a building. Since beacon proximity distinction can be as granular as centimeters, use beacons with more local areas, such as a room in a building.
To learn more about beacons, see Set up and use beacons with Splunk AR.
Use case for geofences
Here's an example of how geofences are useful for associating Splunk data with a GPS-based location.
A company wants to present a dashboard to all employees whenever they're onsite. The dashboard shows information about the overall health of factory machinery. The company can use Splunk AR to create a geofence for the factory location and associate the dashboard with the geofence. Using Splunk AR, the employees can access this dashboard whenever they're at the factory.
See Create and use geofences with Splunk AR to set up and use geofences.
---