This documentation does not apply to the most recent version of PCI. Click
here
for the latest version.
Download topic as PDF
PCI Home
The PCI Home page is a view into all of the PCI compliance dashboards. Start here to quickly see the overall compliance status of your cardholder data environment, to find a specific report or scorecard, or to investigate an issue. The summaries, scorecards, reports, and resources are all linked from this dashboard.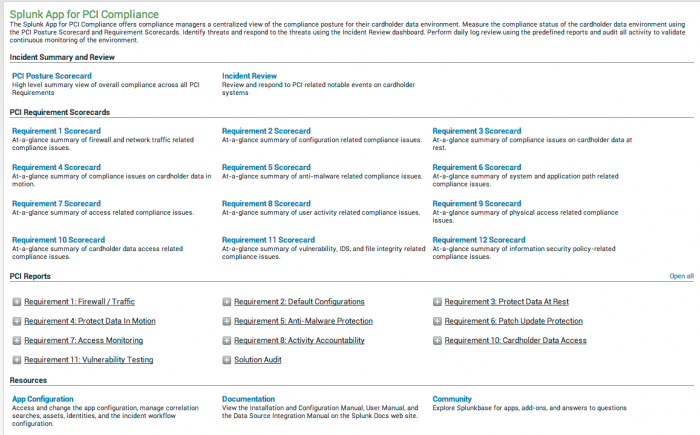 The reports and scorecards can be expanded by clicking on them. You can open all of the scorecards at once by clicking "Open all".
Incident Summary and Review
Links from this section take you directly to the PCI Compliance Posture dashboard and the Incident Review dashboard. Use these dashboards to gain a quick overview of your current compliance status and see the current issues in your PCI compliance environment.
PCI Requirement Scorecards
This section provides links to each of the PCI compliance Scorecards. Use these scorecards to obtain a real-time view of your compliance status by PCI DSS requirement.
PCI Reports
This section of the PCI Home page has links to each of the available Reports in the Splunk App for PCI Compliance.
Resources
Links to the App Configuration dashboard, the Splunk App for PCI Compliance documentation, and the Splunk community are provided here.
---