On October 20, 2021, the Splunk App for Windows Infrastructure will reach its end of life. After this date, Splunk will no longer maintain or develop this product. The functionality in this app is migrating to a content pack in Data Integrations. Learn about the
Content Pack for Windows Dashboards and Reports
.
Download topic as PDF
Application Crashes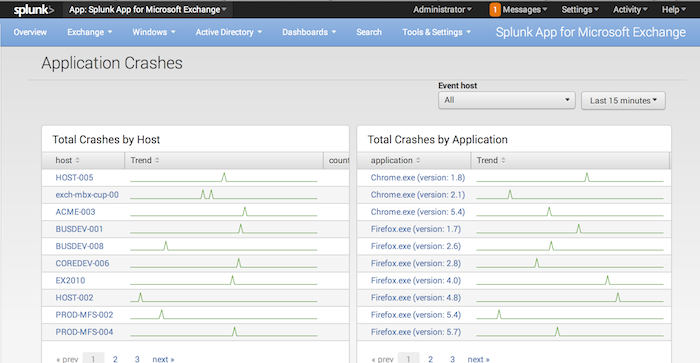 This page displays the status of application crashes on all of the machines in your environment. It has panels that show you information about:
Which applications are crashing.
Which hosts these crashes occur on.
The number of crashes over time, by host.
The number of crashes over time, by application.
The details of each crash, by host.
It also provides a list of useful searches that can be used as a guide to customize the page as you see fit.
Requirements
This page requires you to enable one or more Windows event log inputs to function correctly. Enable at least the Application Event Log channel.
---