On October 20, 2021, the Splunk App for Windows Infrastructure will reach its end of life. After this date, Splunk will no longer maintain or develop this product. The functionality in this app is migrating to a content pack in Data Integrations. Learn about the
Content Pack for Windows Dashboards and Reports
.
Download topic as PDF
DNS Zone Information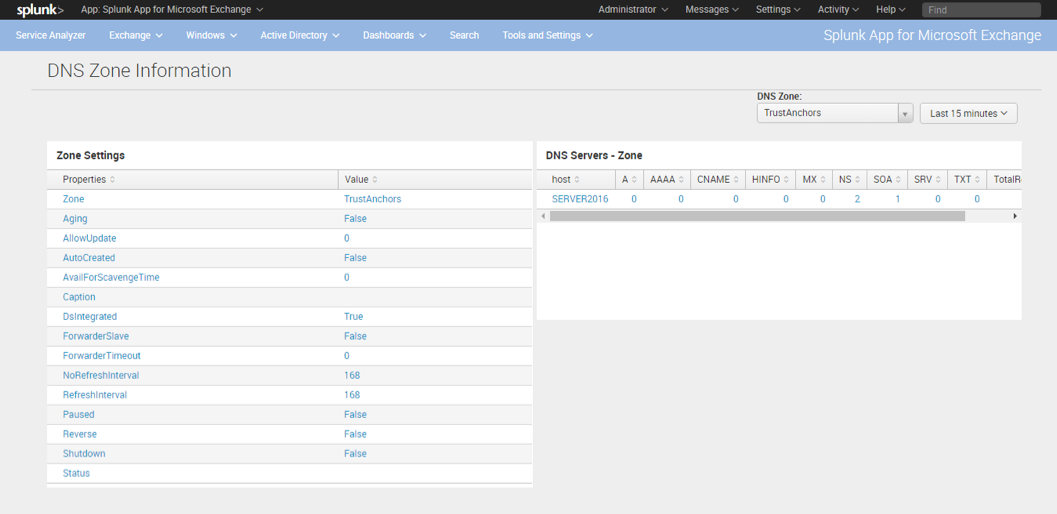 The DNS Zone Information dashboard contains details about a known Active Directory DNS zone, including:
Important DNS zone configuration settings.
A list of the DNS servers that control the zone.
The status of replication of DNS servers that control the zone, and whether or not those servers are out of sync.
Note: You cannot change DNS settings in this dashboard. To change DNS settings, you must use the Windows DNS configuration tool on the DNS server(s) that control the zone that you wish to change.
You can get additional information about the DNS servers that control the zone by selecting the desired server in the DNS Servers - Zone list. See DNS Server status for additional information.
You can choose which DNS Zone you want to display by selecting it in the DNS Zone: drop-down list at the top of the dashboard.
You can also adjust how much data is displayed by selecting the time range you desire in the time range picker.
---