Download topic as PDF
Review current user activity
Start Users Review from the homepage of Splunk UBA to review the activity of users in your environment. Users Review shows you each user one at a time so you can focus on the riskiest users in your organization. The highest-risk users with the most recent risk-incurring activity display first. Filter the users to review by risk score, time, or add a filter to narrow the selection down by another metric, such as country.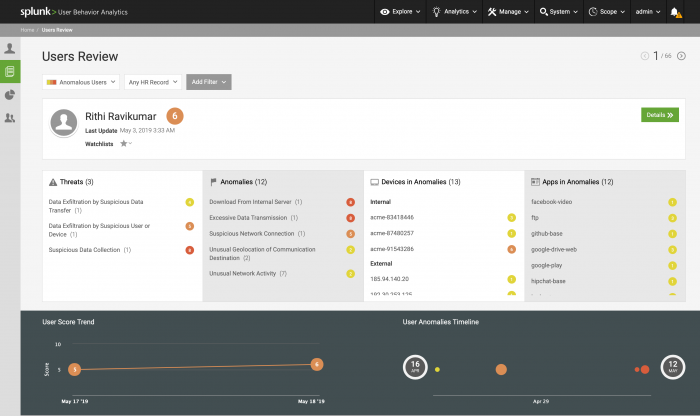 Review the username and last updated date and time.
See which threats, if any, are associated with the user. Each threat has a risk score. Click a threat to see the User Threats dashboard for the selected user.
Review the anomalies associated with the user account. Each anomaly has a risk score. Click an anomaly to see the User Anomalies dashboard for the selected user.
Review the devices in the anomalies. Both internal and external devices could be present. Each device has a risk score. Click a device IP address to see the Device Facts dashboard.
Review the domains in the anomalies. Click a domain to see the Domain Facts dashboard.
Determine whether the user activity is becoming riskier over time with the User Score Trend.
Identify clusters of anomalous behavior over time on the User Anomalies Timeline.
If you decide to investigate the user more, or to learn more about them, click Details to see the User Facts dashboard for the user.
Add the user to a watchlist
After you review the user details, you might want to add the user to a watchlist to monitor their activities.
Click Watchlists and select from available watchlists or create a New User Watchlist to which to add the user.
Click Manage User Watchlists to rename or remove existing user watchlists, or add a new one.
---