This documentation does not apply to the most recent version of SplunkCloud. Click
here
for the latest version.
Download topic as PDF
View options for dashboards and visualizations
You can change view options for dashboards in the View Options section of the Configuration panel. You can also use the visualization menu in view mode to choose different view options for visualizations.
Apply view-only settings for dashboards
Users can share dashboards with view-only settings to reduce editing access and maximize screen space. The following View Options are available in the Configuration panel:
Setting
Default
Description
Show Edit Button
Enabled (Edit button is visible)
Disable to hide the Edit button in view mode. If disabled, use Settings > User interface > Views or the Dashboards page to edit the dashboard.
Show Open In Search Button
Enabled (Open In Search button is visible)
Disable to hide the Open In Search button

() in the visualization menu of selected visualizations. If disabled, users can't click to open the search driving a visualization.
Although it is possible to hide various components of a dashboard to have a view-only experience, users with the proper permissions can still enter the editing experience from the Dashboards list page.
In the dashboard view mode, users can interact with a visualization by selecting it to open an action menu. Upon selecting the visualization, a menu appears in a panel at the top right corner of the visualization. The following options are available:
Open in search
Users with admin permissions can click the magnifying glass on a selected visualization to open the search driving the visualization in Search.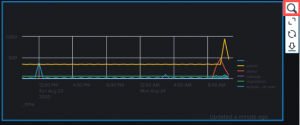 Expand the visualization
Click the full screen icon to view the visualization panel in full screen mode. Press the escape (esc) key to exit full screen mode.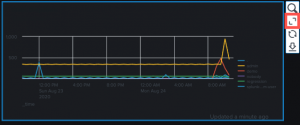 Refresh the search driving the visualization
Click the refresh icon to refresh the visualization.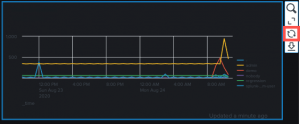 Download a visualization
Click the download icon to download individual visualizations in PNG format.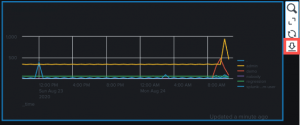 ---